Written by: Rebecca Thompson
Ultimate Canada Magazine – October 19, 2017
Laval is a force to be reckoned with.
In only their second year in the university circuit, the University of Laval women's team has won their first national medal and the colour is gold.
After winning the Coupe de Quebec, Laval came into nationals seeded fifth and faced a tough pool with both of last year's finalists in it: Queens and Toronto.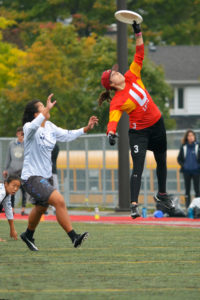 After beating Toronto 12-9 in their first pool play game, they faced the reigning champions Queens who gave them their first loss of the season by beating them 14-9. Laval finished off day one by beating McMaster 14-5, but due to a three-way tie they remained third in their pool going into the championship round on Sunday.
Toronto, one of the favourites entering nationals after their win at CEUUC, returned to the final for their third year in a row. Toronto showed incredible discipline and skill throughout the season, and during nationals with solid handlers like Karen Chan and rookie Brittney Dos Santos. However, come the finals, Laval brought their A-game by capitalizing on Toronto's mistakes and dominated the contest, eventually winning their first title 12-5.
Audrey Clothier, the MVP of the final, spoke about the importance of this win for future development; "I think winning the gold medal will motivate returning and younger athletes to strive for excellence to defend that title in the future"
"I am really proud of the team," Clothier continued. "All the effort and determination, I am so happy to be coming home with a feeling of mission accomplished."
With two women's teams at CUUC this year, Laval has joined the ranks of powerhouse teams in the women's division and isn't going anywhere anytime soon.
When it comes to Toronto, they will be back strong next year despite graduating a line of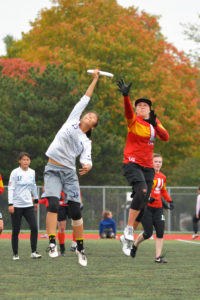 veteran players.
"It will make space for the upcoming talent to carve their space and become dependable
players in those high-pressure situations," said Alyne Azucena, one of the captains of Toronto, when asked about the future of the team.
Azucena spoke about the depth of talent coming out of the youth programs in Toronto as well. She believes that with more encouragement and promotion, Toronto will be able to make another good run at the title in the coming years.
After a universe point loss to Laval in the semi-finals, Queens found themselves unable to defend their title from 2016. In spite of this, their mental fortitude reigned strong as they fought back to take the bronze 9-7 over Western.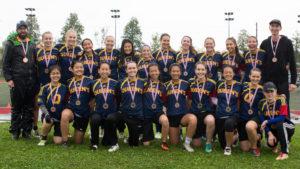 Queens was without third-year veteran Laura Kinoshita on Sunday, who was out with a hamstring injury. However, the depth of the young team came through for the medal with the handles of rookie Wynne Gee and second-year defensive power Lana Ramic.
The next few years are sure to see these three teams continue to compete for the title and with Western, Carleton and McMaster building stronger and stronger programs each year, a new champion cannot be ruled out come 2018.