Ultimate Canada Magazine – January 15, 2020.
Written by: Pierre-Luc Lacelle
It is no secret that the Ultimate community is still pretty small when compared to major sports like hockey, football, and baseball, for example. It is still a developing sport despite growing each and every year. Luckily, we have amazing, passionate people who put in countless hours into making their Ultimate community better and help the sport grow to its full potential. Through a series of articles, we will showcase leaders and their amazing work for the sport!
Starting out in Eastern Canada, in the province of Newfoundland and Labrador, our first leader of the series is Melissa Wheeler. Melissa is currently Vice-President of Ultimate NL and President of a local women's league in St-John's, SWURL.
Melissa started playing Ultimate in 2014 when she got introduced to the sport by some friends from her basketball team. "My first league was the MZU summer outdoor league, but then I was enticed to play in the SWURL summer outdoor league, and next thing I knew, I was playing ultimate 3-4 times a week plus volunteering on a number of boards."
She joined the team Tempest in 2015 and has been the captain of the team since 2016, she also joined the SWURL Board in 2015 and was elected president in 2018. Melissa was also on the board of Ultimate NL in 2015 but did not return until 2018, and is now in her second term as VP of Ultimate NL.
"I do my absolute best to be a voice for the players that may not always have a voice, especially female-matching players and LGBTQ+ players."
Melissa currently plays Ultimate three times a week and has been spending at least four to six hours of her time per week doing Ultimate related activities off the field. For example, her and the Ultimate NL Sport Development Director, Kathleen Sullivan, spent the entirety of Saturday the 16th of November at the Sport NL Annual General Meeting, which was a great opportunity for them to showcase their growth as an organization, especially in terms of inclusion and diversity.
"This is one of the reasons I am very proud to volunteer my time with Ultimate NL, in particular. We are making a real difference in terms of making our sport as accessible as possible across our vast province. We listen to the needs of our membership and we are able to make quick decisions that are progressive and forward-thinking."
Melissa is happy to spend her time making the Ultimate community a better place for everyone in NL.
"The main thing that keeps me going in terms of spending essentially all of my free time dedicated to ultimate is seeing the results of our hard work, specifically, in the area of inclusion and diversity – the concept of making ultimate an attainable sport for anyone, regardless of any factor that could be considered a barrier such as gender, race, sexual orientation, or level of ability."
Even though the province is quite large in terms of geography, it is much easier for Ultimate NL to succeed in St-John's since half the population currently lives in the capital. Ultimate NL does its best to offer services across the province, but the metro area is where they find their success.
"Having Nick and I as President and Vice-President of Ultimate NL in conjunction with the separate leagues we run (MAUL and SWURL) works very well for expanding the reach of our programs and services to almost every adult player registered in a league in St. John's."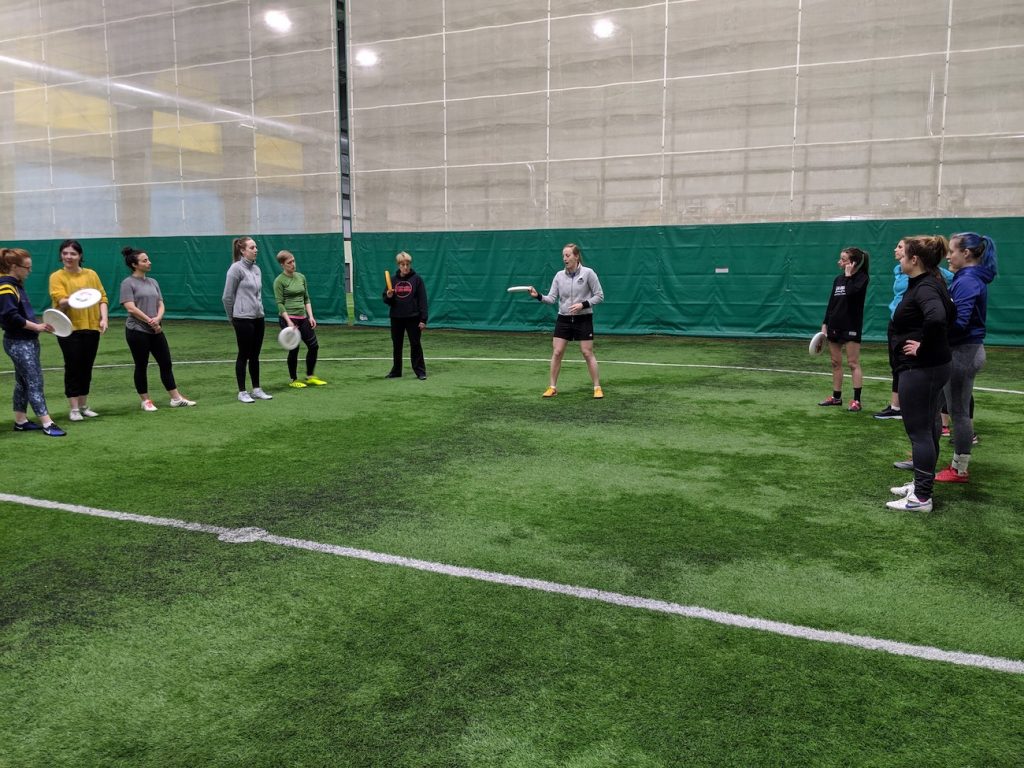 As the president of the Women's league in St-Johns, Melissa is proud to offer female-matching players of age 16+ a variety of leagues to play in. From recreational to competitive, SWURL offers a competitive Parity league and a recreational hat league in the Fall, a recreational 4 on 4 leagues in the winter/spring, hoping to add a competitive league this year, and they also offer a 6 on 6 recreational/hat league in the summer!
"One of the main things we promote at SWURL is that our league is a comfortable and safe place for women-matching players to learn how to properly play the game […] Knowing the challenges that women face, especially in sport, we do our absolute best to accommodate women from all walks of life by offering the earliest timeslots we can get and by providing as much information as possible to ensure our players feel psychologically and physically safe while playing ultimate."
With the help of the Ultimate NL Sport Development Coordinator, Kathleen Sullivan, Ultimate NL offered a Women's Skill Development Series from April to May 2019. The league, with the help of players from Tempest, provided instruction to two streams of female-matching players: beginners and intermediates.
"We considered the skills series was a huge success – we had over 50 female-matching players sign up. We are hoping to offer this initiative once again next spring, but we will also offer an opportunity for male-matching players to learn as well."
Melissa has told us that even though they have a small community and a lot of overlap between volunteers, this actually helps them achieve registration goals for events, tournaments, and league, the fact that all the leagues and competitive teams work closely together comes in pretty handy for a small community like Ultimate NL.
Melissa and her passionate team at Ultimate NL accomplish much more for the community as well. They had over 40 members walk with Ultimate NL in St. John's Pride Parade and they updated their language in the marketing materials to highlight how they accept registrations, now using female-matching and male-matching.
"In July, Ultimate NL had a delegation in the St. John's Pride Parade. We wanted to showcase our sport in this parade to let the community know that ultimate is an inclusive sport that welcomes and supports diversity and accommodates any player, regardless of sexuality or gender."
Not only do they offer a number of opportunities for NL Ultimate players, but they also make sure every single member feels safe and included in the community!
Ultimate NL also works a lot with the Youth, with the help of the Youth Grade School Director and Youth Performance and Development Director, the province saw 4 regional tournaments for schools and offered various elementary, junior high and high school leagues throughout the year. Ultimate NL was also able to send a women's junior team as well as an open's junior team to CUC.
"We are currently a foundation sport as determined by School Sport NL, but we are working to move to varsity sport within the next 3 years."
It is with the help of leaders and passionate people like Melissa, and her team at Ultimate NL, that Ultimate continues to grow and become more accessible.
—
If you would like to nominate someone for the UCM Spotlight Series, please contact the Ultimate Canada Communications Manager, elizabeth@canadianultimate.com